One of the most well-known cricket players of the present time is Babar Azam, the captain of Pakistan. He has built up a fan base throughout Pakistan similar to that of earlier players because to his outstanding batting and leadership. He comes in at number four in T20 batting. He held the top spot for a short while before losing it due to poor performance.
The Pakistani cricket team's captain, Babar Azam, was caught texting with another cricketer's girlfriend and fell for a honey trap.
Babar Azam, a 28-year-old man, is again in the spotlight, but for all the wrong reasons this time. Several of his personal photos and audio recordings were exposed on social media on Sunday. These pictures have become very popular on social media since Sunday night.
Although some of his followers said that these actions were taken to damage his reputation, the majority of people now doubt his character in light of the images and noises.
Twitter responds to the popular sexting video of Babar Azam: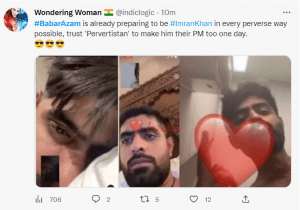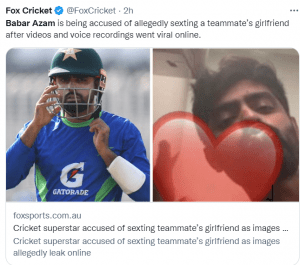 The Pakistan Cricket Board's new leadership wants to completely overhaul the organisation, and the sacking of Test captain Babar Azam is the first step in that direction. They also have no plans to renew the coaching contracts of Shaun Tait and Saqlain Mushtaq. The structure will be led by a foreign coach, with three distinct captains for three different formats, the sources claim.
A number of significant improvements will be implemented following the Pakistan Super League in March of current year. Following a dismal home series in which Pakistan lost three of five Test matches, the news has raised questions about Babar Azam's oversight of the red-ball system.
According to a report in Geo News, "The PCB is considering removing Babar Azam from the all-format captaincy and appointing individual skippers for all three formats."
The decision to replace Shadab Khan as vice-captain for the ODI series against New Zealand with Shan Masood was made as part of a long-term plan, according to the sources; alternate captains for red and white-ball formats are also a possibility.