Ahmedabad
Saturday, 15 April 2023
Electronics and Mechanical Engineering (EME) School, Vadodara celebrated its Diamond Jubilee on the completion of 60 years of its raising on 14-15 April 2023. The EME School was raised in Vadodara on 15 Apr 1963 to train the Officers, Junior Commissioned Officers, and Other Ranks involved in the task of providing engineering support and maintenance cover to weapon platforms, guns, small arms, electronic night vision devices, and combat vehicles of Indian Army.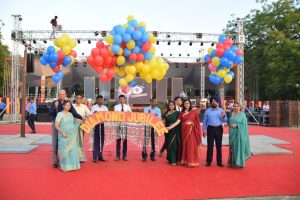 Major General Neeraj Varshney, VSM, Commandant, EME School, and his team organized a function commemorating the Diamond Jubilee. The highlight of the celebration was a Sainik Sammelan addressing all troops and the release of Special Cover by Lieutenant General Tumul Varma, SM, VSM, Director General, Corps of EME showcasing the saga of sacrifice and technical professionalism of EME School. The Director General of EME also inaugurated a Sand Model Room for the training of Officers on Operations in the Mountains and Counter Insurgency areas. A message from Lieutenant General SS Mahal, AVSM, VSM, GOC-in-C, and ARTRAC was also read out wherein he appreciated the work done by EME School, Vadodara.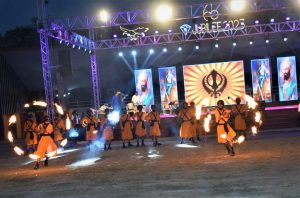 On the occasion, Lieutenant General JS Sidana, Commandant MCEME also addressed the gathering of all personnel and highlighted the stellar training being conducted by EME School to train Agniveers, Para Military Forces, and Foreign trainees.
An entertainment program curated by soldiers and students of MS University, Vadodara was also organized for all ranks, veterans & their families and was highly appreciated by the invitees.  On the occasion, all ranks of EME School took a pledge to rededicate themselves in the service of the Nation and Indian Army.
PR GNR/NM/MC/CK/39/2023