Chief of the Air Staff Air Chief Marshal VR Chaudhari spoke extensively about the need for cooperation between the Indian Air Force (IAF) and the Rashtriya Raksha University (RRU) in Gandhinagar on Wednesday. He claimed that in light of technological advancements in the defence sector, a collaboration between the military and academia is not an option, but a necessity to train the air warriors ready for futuristic warfare.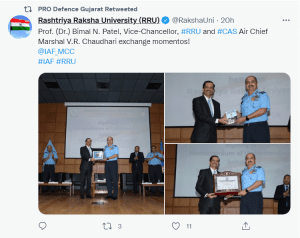 He was addressing the IAF and RRU's signing of the Memorandum of Understanding (MoU). The MoU was inked with RRU to support R&D in specialised fields of shared interest and to facilitate academic study by Indian Air Force (IAF) personnel in a variety of modern subjects.
Air Vice Marshal Rajeev Sharma, Assistant Chief of Air Staff (Education), and Prof. Anand Kumar Tripathi, Pro-Vice Chancellor, both signed the Memorandum of Understanding.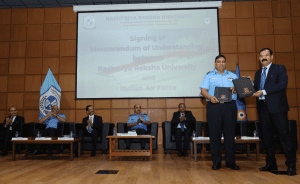 "The relationship between IAF and RRU would help IAF personnel to study several courses in Defence and Strategic Studies, Artificial Intelligence & Cyber Security, Applied Science, Engineering & Technology, and Foreign Languages," stated RRU Vice Chancellor Prof (Dr) Bimal N Patel. The MoU will also support R&D in the area of internal and national security. Additionally, the University will accredit IAF training facilities.
Speaking on the occasion, the Chief of the Air Staff said, "While new non-kinetic and non-lethal means of warfare are also being deployed, conventional realms of battle have been expanding steadily. In the digital era, knowledge is becoming a key resource, and information is having a bigger impact on geopolitics and strategy.
"The nature of security threats has changed, and newer approaches to achieving strategic goals are taking shape. Additionally, they are producing fresher, undiscovered vulnerabilities. The IAF commander stated that these difficult security dynamics would continue to demand fresh and creative solutions.
Both Lt. Gen. Asit Mistri, Director, SISDSS, and Air Marshal Vikram Singh, Air Officer Commanding-in-Chief (AOC-in-C), South Western Air Command (SWAC), were in attendance.