SRPS means all-in-one place
This was made possible by VSOL SRPS Pvt Ltd, a start-up in Ahmedabad's Ambli Road that was officially opened on Sunday.
According to Vishal Thakkar, founder and chairman of VSOL SRPS Pvt Ltd, on this occasion, VSOL is presenting all major two-wheeler brands for the consumers in its new multi-brand showroom, including top brands like Yamaha, Honda, Bajaj, and more.
Giving further details about the project Our main focus is on our customers, who will have all of their vehicular demands and solutions thoroughly taken care of, according to Thakkar, who has an outstanding amount of corporate expertise and understanding. Two-wheelers of all different brands will be sold, followed by after-service on every one of them. If a customer wishes to have his old vehicle restored, it will also be done at a very competitive price, extending the life of that vehicle by seven to eight years.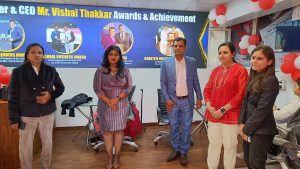 Female business owners Prachi Thakkar and Vaishali Patel jointly own this showroom under the startup concept. Young BBA student Prachi has excelled academically and is prepared to use ethical business practices as an entrepreneur. With a background in law, Vaishali is equally skilled at providing clients with care and loyalty.
Dr. Kavita Rao, vice president of the International Foundation of Women and a well-known source of encouragement for women, was the chief guest at this event. She remarked, "Women who are running any enterprise will only carry it forward and shine out. It's interesting to note that after demonstrating their excellence in the domains of education and service-oriented fields, women have begun to take entrepreneurship into their own hands. If given the opportunity, she manages the household and the business better than anybody else, and she is far superior to the males. On launching the women's business VSOL with Kavita Rao, Jalpa Joshipura, the founder of the women entrepreneurs club Evolv, claimed that "the next decade is poised to belong to women entrepreneurs. Women have been encouraged to take the lead as business entrepreneurs by a number of government programmes and initiatives that help them.
"More people need to step outside of their comfort zones, take on challenges, and achieve new heights in many industries. If they fail, they shouldn't worry because failure is a necessary part of growing, according to Joshipura.