The music video was launched at Meraki Hall on 7th September, Wednesday.  The event was attended by a lot of dignitaries from political leaders, celebrities, social media influencers, travel agents and authorities.
The music of the video is composed by Sachin-Jigar.  The presenter of the video is Lalloji and Sons.
The event was hosted by Dhwanit an ex-RJ of Radio Mirchi.  Devarshi Shah and Ridhi Dangar were present on the occasion.  The other actors who performed in the music video were also present to grace the occasion.
The music video was launched by renowned singer Priya Saraiya.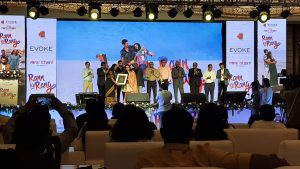 This is the second music video around the White Rann after "Rann Ki Kahaniya" showing the beauty of the White desert.
The sunrise and sunset at White Rann offer an unmatched experience to tourists.  There are other places like Kalo Dungar (Black hill) and other historical places in Kutch.  
The event was organized by Lalloji and Sons who has been known as the transformer of Rann of Kutch into a hot tourist destination in the last 16 years through Rann Utsav.  
The Tent City is the prominent spot and place for Rann of Kutch Utsav providing great business opportunities to the locals during the festive called "Rann Utsav"  
Lallooji and Sons have more than 100 years of experience in organizing and planning world-class events.   
It was all started in 2005 when then Chief Minister of Gujarat, Shri Narendra Modi realized the potential of Rann of Kutch and planted the seed of "Rann Utsav" Since then the Rann Utsav has been organized and planned by Lallooji and Sons.
The Rann Utsav will start from 26 October 2022 till 20 Feb 2023. The four-month-long Rann Utsav attracts not only national tourists but many international tourists as well.
It's a must-visit destination for all age groups with friends and family. 
For more information you can visit the website of Rann Utsav: 
Website:  https://www.rannutsav.net/ 
Call: 1800 270 2700