With a vision to ensure that our information networks, industrial networks, and ICT infrastructure are secure, Rashtriya Raksha University (RRU) will conduct Cyber Security Incident Response Training for officers from National Informatics Centre (NIC) under the Ministry of Electronics and Information Technology (MeitY). NIC being the technology partner of the Government of India, has the objective to provide technology-driven solutions to Central and State Governments, having Data Centres, Centres of Excellence as also nationwide ICT infrastructure to support e-Governance services and various initiatives of Digital India.
Speaking during the inauguration of the training, ColonelNidhish Bhatnagar, Director, School of Information Technology, Artificial Intelligence and Cyber Security at Rashtriya Raksha University, said "RRU is conducting cyber security incident response training for officers of NIC, wherein we will train and upskill the officers at all levels, DDGs and CISOs, Directors and Dy CISOs and System Managers. The training will be conducted over multiple batches over the next two years. This training will be conducted in-person mode at the University and will cover contemporary facets of information technology, cyber security, the latest trends, legal aspects, and information security management amongst others. We have a distinguished set of trainers, and they will take the trainees through the nuances by means of a well laid out curriculum."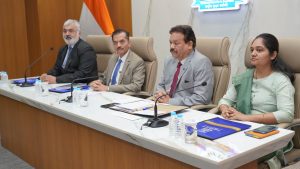 Training for the inaugural batch commenced on 13 March 2023, and it comprises 25 officers of NIC who are at the helm of digital affairs for the Government of India, be it as Heads of Groups and Divisions or State Coordinators, Centres of Excellence, etc.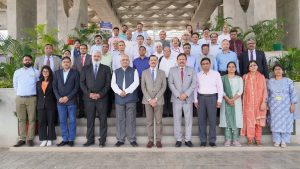 Nidhish Bhatnagar added "Large-scale proliferation of information technology and information technology-enabled services in line with Prime Minister Modi's vision of Digital India, is causing a digital transformation. This paradigm change has touched each one of us, be it in our personal lives, or be it in governance, industry, transportation, power, defense, agriculture, or any other sector. Large-scale automation, the use of artificial intelligence-powered solutions, or just the way we work, ie, the use of emails, social media, e-commerce, data storage, smaller local area networks to large-scale networks, and digital technologies have profoundly changed our lives. However, this large-scale digital exposure has also enhanced the threat surface. And this threat surface has the potential to be exploited by anti-national and anti-societal players. Each one of us would have experienced a phishing or vishing attack. Be it such low-level attacks or more intense ones like the recent attacks on AIIMS New Delhi and Oil India, we are vulnerable. And with our large-scale dependence on the digital world, these vulnerabilities have the potential to cripple society and even nations. The recent cyber attacks of Solar Winds and Colonial Pipeline, and even the declaration of National Emergency in Costa Rica, are some examples of this potential. However, these vulnerabilities can be overcome by skilled professionals in the domain of cyber security, as also by an enhanced awareness."
Quoting Prime Minister Narendra Modi, he said "India's IT sector is our great strength. Cyber security is no longer limited to the digital world only. It has become a matter of National security"
The inaugural address was delivered by Professor (Dr) Bimal Patel, Vice Chancellor, Rashtriya Raksha University, Member National Security Advisory Board, and Member United Nations International Law Commission.
Rashtriya Raksha University (www.rru.ac.in), an Institution of National Importance, pioneering national security and police university, Ministry of Home Affairs, Government of India, aims to provide comprehensive education, research, training, and extension programs in all aspects of national security and police to youth aspiring to join security and police forces, our in-service and ex-service security personnel and thus to create and maintain a professional workforce of international standards.
Shri Narendra Modi, Honorable Prime Minister, while dedicating RRU to the Nation on 12 March 2023 stated that it is the jewel of the country that is helping us further strengthen the vision of Sakshat Bharat. Leading the technology front towards ensuring security in various domains including emerging technologies and cyber, RRU has demonstrated capabilities in information technology, cyber security, artificial intelligence, digital forensics, cryptology, geoinformatics, and others.