T20 World cup 2022
The cricketing world witnessed one of the greatest matches in T20 Cricket.  It was a match of the tournament where Virat showed his class.  
It was looking like India will not be able to get the target as only 18 balls remaining and 48 runs required means more than 15 runs per over meaning you need to score nearly 3 runs on each ball.  This is not impossible however, it was the most difficult looking at the quality of bowling of the Pakistanis.
But, when you have players like Virat and Hardik on the crease, it is possible and not difficult.  From there the last two-over situation was around 28 runs were required in 8 balls and it was against Haris Rauf, one of the quickest in the business and the pitch was assisting pace bowling.  India needed to hit a sixer in this over or else it would be impossible to score 20-odd runs in the last over.
Virat not only hit one six but he hit two sixes in the last 2 balls of Haris Rauf and gave India just 16 runs to score in the last over.
Virat owes this kind of situation and he himself loves this type of situation. He has been not out 18 times while chasing in T20 cricket and India have won all those 18 times.  This is just phenomenal and extraordinary.
The whole world just saluted Virat, his ability to handle the pressure, his temperament, his ability to score runs while chasing, and his ability to hit sixers and fours against quality bowling.
Hardik played a very crucial role in this match and according to Virat, Hardik was motivating him and asking him to take the game deep and which helped India.
Rohit said in the press conference that this innings of Virat is not only his best but it is one of the best innings played by an Indian in T20 cricket.
After the match, Rohit lifted Virat on his back and was very emotional.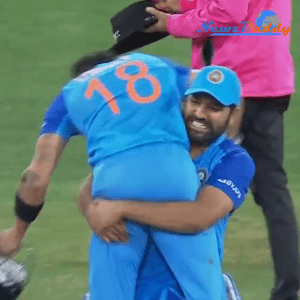 I am watching Virat since he won the under-19 world cup for India in 2007, since 15 years, I have seen anger, seen emotion, seen him being happy, seen him being jubilant on the field but have never seen tears in his eyes.  Yesterday there were literally tears in Virat's eyes and it was a very emotional moment for Virat himself and for billions of Indians.
Virat and team India gave Diwali gifts to all Indian fans and it is Diwali before Diwali in India.
After the match, Virat said "when I feel that I am playing at my best then only one man on the field is under pressure and that is the bowler." 
After this performance, all the bowlers who will be facing Virat in the upcoming matches are now under pressure.
This match will not only lift the morale of Virat but all the players of India. As Rohit very rightly said that once you win the first match of such a big tournament, and that too against your arch-rival, the confidence in the team will be very high.
The Netherlands will be the next to face Virat on the 27th of October.


Also Read: T20 World Cup: India Vs Pakistan the match of the tournament