What is the meaning of Shyaswa?
The word "Shyaswa," which is derived from the word "Shashwat," which means everlasting, eternal, perpetual, and continuous, will first be discussed.
Our "Corporate Identity"—the logo—was officially unveiled today by Shyaswa Developers Pvt Ltd. In 2023, Shyaswa Developers Pvt Ltd would increase the number of residential units it has available in Ahmedabad, Gujarat, from 1000 to 1200.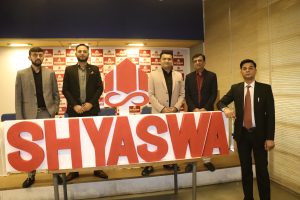 Ahmedabad, April 18, 2023:
Prior to getting into the real estate market, Shyaswa Developers Pvt Ltd, an Ahmedabad, Gujarat-based development company, was active in the FMCG, automotive, tobacco, and lighting industries.
Regarding the company's founding, the real estate industry's adventure began ten years ago with investors who later became developers. They entered Ahmedabad with 2 projects of multi-story residences and have big plans for the Ahmedabad Real Estate Market with roughly 6 to 7 forthcoming Projects after successfully completing 8 projects of multi-story houses & townships in various cities of Gujarat. Information was provided on this by Mr. Tejas Chhag, Managing Director, Mr. Bhavesh Pandhi, Mr. Mitesh Chhag, Mr. Mihir Bhojani, Director, and Mr. Amit Dahima, CEO. We are quite concerned about this, said Amit Dahima, CEO of Shyaswa Developers Pvt Ltd.
Ecstatic to begin a business in Ahmedabad, Gujarat. We have experience investing and developing in a variety of industries, and we are now making significant investments in Ahmedabad as real estate developers. We are currently working on two projects, one of which is the Ultra Luxury Segment in Ahmedabad, Gujarat, where we plan to debut our work with increased investment.
Additionally, "Shyaswa Developers Pvt Ltd" would be the first Gujarati company to enter and establish its operations as a real estate developer in the Dubai market, according to Mr. Amit Dahima, CEO.
We will be a developer in Dubai starting in 2024, which is quite exciting for us. This is significant because we have a broad perspective and are eager to become global developers, not just developers based in cities.
About the business, To remain at the top of the competitive real estate industry, according to Mr. Tejas Chhag, Managing Director of Shyaswa Developers Pvt Ltd, requires continuous progress and innovation. As a result, in order to keep its position as the town's leader, we have accepted the change. The three pillars of our business, in our opinion, are perseverance, innovation, and transparency. We were designed to create structures out of nothing. Both first-generation business owners and people with experience in a range of industries are represented on the team.
Only "Conceptual Creation" serves as a source of inspiration for the team.
The management said that there are a lot of foreign investors showing interest in investing in India, especially Gujarat as they see the potential of Gujarat of becoming a growth model for the nation and the world.
When asked if they have any foreign investors in their investment?
The management replied that right now there are no foreign investors but you never know in the future if we collaborate with any realty investment company from a foreign land.
When asked about the plans of acquiring the project of Redevelopment right now?
The management said that their current focus is on new development only and may be in the future, they plan to work on Redevelopment projects also.
It seems that the company and management are quite strong and honest.  It would be a wise investment if you invest or purchase for personal use any of the units from the projects of "Shyaswa."