Newzdaddy Ahmedabad, January 30, 2023
The Kenya Tourism Board (KTB) will hold B2B Trade Networking Roadshows in Ahmedabad on January 30, Bangalore on January 31, and New Delhi on February 6. In order to engage with the Indian travel industry and media, KTB will also be present at OTM Mumbai on the 2nd, 3rd, and 4th of February.
Leading DMC, Hoteliers, Tour Operators, and Service Providers from the Kenya Travel Industry, as well as Kenya Airways, will be part of a high-level delegation from KTB to deliver presentations and explore interesting options for collaboration with the high-potential Indian market.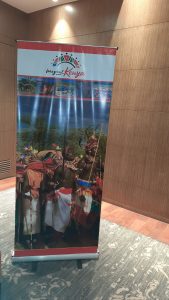 From 42,159 in 2021 to 81,458 in 2022, the number of arrivals entering Kenya from the Indian source market increased by 93.2%. Compared to the 120,893 performance in 2019, this represents a 67% improvement.
As the Kenya Tourism Board (KTB) guides members of the travel industry to this year's Outbound Travel Mart (OTM) tourism expo in the nation, KTB also plans to sign new commercial agreements in the Indian market.
Acting Kenya Tourism Board (KTB) CEO John Chirchir claims that OTM is providing Kenya with a chance to re-enter the Indian market, which was adversely affected by travel because to the Covid-19 outbreak.
Effect of Covid-19 on Tourism
According to Chirchir, "India is one of the markets whose travel was badly impacted by Covid-19; we are now establishing a physical presence in the market after being absent for about 2 years, and we intend to reap significant benefits from the fair."
Even as KTB launches significant promotional and marketing activities in the market, according to Chirchir, the growth is a sign that the Indian tourism industry is on the right path to recovery. "These are some of our many efforts to restore the market to its pre-covid-19 epidemic performance levels. Indian visitors have been drawn to Kenya by qualities including accessibility and simplicity of access, a year-round pleasant climate, and a wide range of tourism options, according to the CEO.
In order to increase passenger confidence, KTB conducted joint promotional efforts with marketing firms like FCM Travel Solutions India and Yatra and held a familiarisation trip in Nairobi for India's top travel agencies.
Intimate, breathtaking, and mystical travel encounters can be found in Kenya. Visitors can experience thrilling wildlife encounters, stunning natural settings, the tranquilly and adventure of Kenya's coast, rich cultural interactions, and the friendliness of the Kenyan people throughout the year.