AHMEDABAD, 18th October, 2022: KD Hospital, Ahmedabad is one of the leading institutes focused in its effort to create awareness for the increasing trend of AntiMicrobial Resistance (AMR) and effective management.
AMR, also known as antimicrobial drug resistance, is when microorganisms such as bacteria, fungi, etc. change in such a way that they become ineffective when drugs are used to treat the infection. AMR has been declared one of the top 10 global threats to humanity by the World Health Organization (WHO). In 2019, the medical journal The Lancet reported that such resistance causes approximately 12,70,000 deaths worldwide.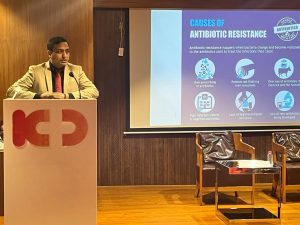 India has one of the highest rates of AMR in the world and according to government data released in 2019, the infection kills around 7,00,000 Indians annually.
AMR infections usually require second-line and third-line therapy, as these infections cause serious side effects, such as organ failure, and prolonged care and recovery, which can take months.
Antibiotics should be used only in cases of very serious infections such as difficult-to-treat bacterial infections, and poor infection prevention and control. Its gross misuse and overuse of antibiotics may increase the spread of AMR.
This leads to an alarming increase in morbidity and mortality due to AMR infection, and the WHO and CDC have suggested that measures can and should be taken at all levels of society to reduce the impact and control the spread of resistance. Individuals, policymakers (governments), healthcare professionals and the healthcare industry must collectively contribute to reducing the incidence of AMR infections.
"Antimicrobial resistance (AMR) silently kills around 7,00,000 people every year. This unfortunate reality does not make headlines. We need to prioritize AMR as a threat and understand and explain the consequences if it continues to be ignored. The Covid-19 pandemic has shown how infectious diseases can spread around the world and affect almost every aspect of our daily lives.
It could pose a threat to our future if we do not mobilize a coordinated, adequate response at the national level to drug-resistant infections caused by antimicrobial resistance (AMR)," said Dr. KD Hospital Chief Operating Officer. Parth Desai said.
There are no standardized region-wise data on resistance rates, but some reports from hospitals and communities suggest that the overall resistance surface is increasing by 5 to 10 percent per year for highly abused multidrug antimicrobials. 1A data analysis conducted by the Indian Council for Medical Research (ICMR) between 1st January and 31st December, 2021 has shown a potent increase in drug-resistant pathogens, making certain infections difficult to treat with available drugs
Senior pulmonologist and intensivist Dr. "Adopting antimicrobial stewardship is an important component and one of the essential first steps to spread awareness and understanding of AMR through effective communication," says Harjit Dumra.
Intensivist Dr. Jigar Mehta emphasized that "Governments, researchers and industry partners around the world had to come together to develop recommendations, diagnostics, therapeutics and vaccines for Covid-19. A similar approach should be mobilized to tackle AMR."
Mr. Shyamakanth Giri, Managing Director and President, India Business and Emerging Markets, Amneal Healthcare said, "As industry patterns we also have a responsibility to engage in developing platforms to help prevent hospital infections and evolving antimicrobial drug resistance. Uniport is a unique closed Ivy technology platform, developed in India by Amneal for India. This will set a new standard for providing IV solutions in the country.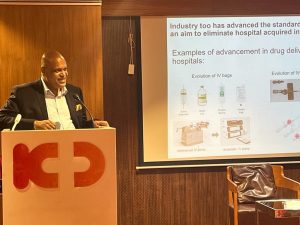 The INICC (International Nosocomial Infection Control Consortium) recommends the use of closed infusion systems for administering therapeutic treatments in hospitals. As the Government of India has taken several steps to curb the rise of AMR in India, we look forward to partnering with stakeholders like KD Hospitals to reduce this burden by increasing access to this innovative technology for modern care."
Amneal Healthcare, a subsidiary of NYSE listed Amneal Pharmaceuticals, recently announced commercial operations in India. The Uniport is a secure IV with a multi-purpose single port bag, providing a versatile and tailored closed-infusion system. The Uniport bag introduces several technological advancements for maximum usability such as self collapsibility, easy to squeeze, and transparency for clear visibility.
About KD Hospital
KD Hospital (Kusum Dhirajlal Hospital) is a multi/super speciality hospital located at the prime location of Vaishnodevi Circle, SG Road, Ahmedabad; with state-of-the-art facilities & treatments at an affordable cost, encompassing wide spectrum of accurate diagnostics and elegant therapeutics created on the philosophical edifice of patient and ethical centricity ensuring humanistic dispensation.
Under the aegis of Shri Harihar Maharaj Charitable Trust, KD Hospital is spread over a massive 6 acre campus providing 300+ beds and catering for nearly 45 super-specialties, all under one roof. A multispeciality approach enables each speciality to have the comfort of collaborating on complex cases thereby ensuring a comprehensive assessment/ treatment of the patient. Patients are provided with multiple options for treatment, the most suitable of which are arrived at through a collaborative case assessment approach that decides the best course of treatment for the best outcomes. KD Hospital is incorporated by SHRI HARIHAR MAHARAJ CHARITABLE TRUST.
About Amneal:
Amneal Pharmaceuticals, Inc. (NYSE: AMRX), headquartered in Bridgewater, NJ, is a fully integrated essential medicines company. We make healthy possible through the development, manufacturing, and distribution of generic and speciality pharmaceuticals, primarily within the United States. The Company has a diverse portfolio of over 250 products in its Generics segment and is expanding across a broad range of complex products and therapeutic areas, including injectables and biosimilars. In its Specialty segment, Amneal has a growing portfolio of branded pharmaceutical products focused primarily on the central nervous system and endocrine disorders, with a pipeline focused on unmet needs. Through its AvKARE segment, the Company is a distributor of pharmaceuticals and other products for the U.S. federal government, retail, and institutional markets. For more, please visit www.amneal.com.