Australia is the destination of Prime Minister Narendra Modi's two-day trip. At Sydney's Olympic Park, Modi will speak to more than 20,000 people of Indian descent shortly. Trains and private charters under the names Modi Airways and Modi Express transported attendees to Sydney for the event.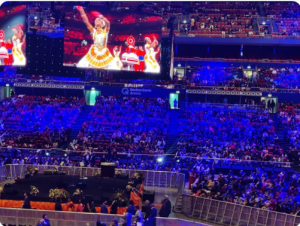 In Sydney, the words "Welcome Modi" were written in the sky with the assistance of aircraft.
Before the PM's talk, the Olympic Park will host a number of cultural events. Anthony Albanese, the prime minister of Australia, will also be present. Modi's visit to Australia will see the renaming of the Harris Park neighbourhood as "Little India."
I am not easily satisfied, thus there will be discussions with the Albanian PM about further enhancing relations, Modi remarked.
In Australia, Prime Minister Narendra Modi addressed the CEOs of numerous corporations. Paul Schroeder, executive chairman of Industries, CEO of Australia Super, CEO of Fortescue Future, Dr Included are Gina Reinhardt, the executive chairperson of Hancock Prospecting, and Andrew Forrest. Australian businesspeople have been asked to invest in India by PM Modi.
There will be a debate about enhancing cooperation with Australia, the PM announced.
I don't take well to being satisfied easily, and I know Australian Prime Minister Albanese is the same way. When we come together in Sydney, I have no doubt that we'll talk about ways to advance our friendship, improve our working relationship, and increase cooperation. After Rajiv Gandhi, Modi is the second prime minister to travel to Australia.
Australia and India are close friends, according to PM Modi.
In the interview, PM Modi stated: "The strong relationship and trust between Australia and India inspires good partnership in the field of defence and security for both countries." We can discuss any topic honestly because we are close friends. The basis of the two nation's bilateral relations is Australia's comprehension of India's position on a number of topics.
Regarding the submarine agreement between the US, UK, and Australia under AUKUS, PM Modi made no comments. PM stated that he made this choice. He gave us an overview of the transaction and its purpose.
PM is going to meet Albanians
On May 24, Modi will have a meeting with Australian Prime Minister Antony Albanese. The two presidents will talk about bilateral relations in the interim. David John Hurley, the governor-general of Australia, and Modi will also meet here. will arrive back in Delhi on May 25.
Modi is currently in Australia for the second time.
PM Modi is making his second trip to Australia. 2014 saw him travel to Sydney prior to this. Modi was scheduled to travel to Australia for the Quad Summit initially. However, due to the current debt crisis in the US, the meeting took place at the G7 conference in Japan. The PM has not, however, postponed his trip to Australia.
Crowd control is a challenge for Prime Minister Modi.
Albanese stated that there are only 20,000 people who can fit in the Sydney neighbourhood where PM Modi will be detained during the QUAD conference. Albanese informed Modi that his task in such a circumstance is to control the mob.
Albanese talked about his trip to India as well. when 90 000 people greeted him and Modi at Ahmedabad's Narendra Modi Stadium. Biden commented, "I should get your autograph."
The Forum for India Pacific Islands Cooperation (FIPIC) meeting was held in Papua New Guinea on Monday, and Prime Minister Narendra Modi was there. He also received the highest honours from Fiji and the Republic of Palau. The PM has received the Ibakal Award from Palau and the "Companion of the Order of Fiji" from Fiji.