Brahmo Choryasi
A lavish Brahmo Choryasi feast for the Brahmins was held in the Ahmedabad courtyard.
Nearly 11,000 Brahmins participated in Brahmabhojana.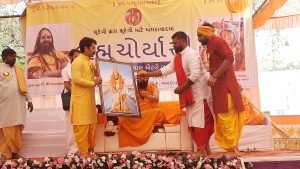 Ahmedabad: In the courtyard of Ahmedabad, Brahmins have organised Brahm Choryasi, or Brahm Bhojan, for Brahmins. On January 8, this was held at Sri Bhagwat Vidyapeeth Sola. 11,000 Brahmins representing 84 subcastes from all over Gujarat will assemble in rows, dress in Brahmin attire, and consume Brahmin food.
It will be preceded by singing from the Vedas. The Param Pujya Anantashree Vibhushit Dwarka Sharda Pithadhiswar Jagatguru's representative is this Brahmo Choryasi. Shankara the Great Shri Narayananandji, Swamishri Sadananda Saraswatiji Maharaj, will bestow his blessings.
According to the event's organiser, Ahmedabad Youth Brahmins, Brahm Choryasi is an age-old custom. Making the younger generation aware of it and Brahm Ekta is the aim of this Brahm Bhojan. There is still another praise of feeding Brahma in the scriptures. A host who serves Brahmins is regarded as receiving God's unending grace.
Jagatguru's preachings
On this occasion, Param Pujya Anantashree Vibhushit appealed to the Brahmins to remain united and help each other in any situation.  He said that "Brahmins are "Agni kund" and without brahmins, nothing is possible in this world.
He also urged brahmins to worship Goddess Bhagwati, as even Ram worshipped Goddess Bhagwati before he went to fight against Ravan.  Even Shri Krishna also asked Arjun to do Yagya before the battle of "Kurukshetra."