"The Creator – Sarjanhar" Movie
• This film is based on "One World, One Religion".
• Rajesh Karate "Guruji" has conceptualized this film
• Releasing in cinemas on 26th May
One world was created by nature, but over time humans divided it into caste, religion, country etc. for their own selfishness. But can the world today be summed up in one formula? A film made with such a revolutionary idea "The Creator- Sarjanhar" is based on "One World, One Religion". The trailer of the film was released this month itself, which has been much appreciated by the audience. The film, which has a different theme, is releasing in theaters on 26th May, which had a grand premiere show at PVR, Ranip in Ahmedabad.
Bollywood actresses Amisha Patel and Mahima Chaudhary & actor Aditya Pancholi were present on this occasion besides the producer of the film Mr. Rajesh Karate "Guruji".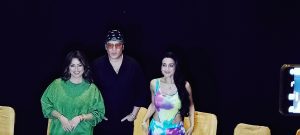 The film is written and directed by Praveen Hingonia, while the concept of the film goes to Rajesh Karate "Guruji" who is also the producer of the film. 'Rajesh Karate Guruji's Ashram named Satya Shabd Sanshodhan is running in Mehsana. He and Rajubhai Patel have made the film The Creator together. The film stars Dayanand Shetty, Arya Babbar, Anant Mahadevan, Raza Murad, Rohit Chaudhary, Bhuvnesh mam, Jashn Kohli, Himani Sahani, Eliza Sehgal, Bushra Sheikh, Shruti Ulfat, Gurdeep Kohli, Gyaan Prakesh, Pramod Moutho, Shaji Chaudhary, Sanjay Swaraajand many well-known actors.
Talking about the film, Rajesh Karate "Guruji" said, ""What is happening in this world? Where has all the humanity vanished? Why are people so indifferent towards each other? Deeply analyzing these issues I realized that it is one single issue that has divided humanity. But where is the religion of humanity gone? There is hate and violence all around in the name of religion. Hence the answer would be if there is one world, then we should have ONLY ONE RELIGION and most of the troubles and miseries of people will be over. My film 'The Creator' talks about peace and love. One can just imagine how the happy human life would be if there were no religions in the whole world, no borders anywhere in the world."
Director Praveen Hingonia mentioned, "Our film promotes love and peace. There is no religion bigger than humanity, through this film we want to spread this message to the whole world. Man should be like a free bird, so that he can fly freely in the whole world."
Asif Chandwani, Parashuram Mishra, Rudra Gautam have given the music of this film. It is worth mentioning that the shooting of this film has been done in different places in Gujarat. The audience is eagerly waiting for the movie "The Creator- Sarjanhar" which The film is all set to hit the theaters on May 26, 2023- Friday.