The chances for Australia, India, South Africa, and Sri Lanka
South Africa's series loss in Australia damaged their chances of competing in the WTC final.
We examine the top candidates for the World Test Championship final and what they must do to get there with only three series remaining in the 2021–2023 calendar.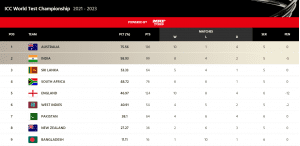 Has Australia secured a place in the championship game?
With a 2-0 series victory over South Africa at home, Australia has 75.56% of the points and has all but guaranteed their spot in the championship game. They will only be eliminated if Sri Lanka wins both of its games in New Zealand and they lose all four of their Tests against India starting next month.
If Australia loses 4-0 in India, then their percentage will be dropped to 59.65, and Sri Lanka will increase to 61.11 if they win both their test against New Zealand in New Zealand which is going to be tough. 
Australia only needs to draw one Test in India to stop depending on other teams, provided they don't give up any penalty points. 
What are India's chances to reach WTC final?
Regardless of the outcomes of other series, India will advance to the final if they defeat Australia at home 3-1 or better. After winning the series 2-0 in Bangladesh, India is currently at the second spot in the standings with 58.93%.
India will be out of the competition if the series against Australia ends 2-2 and Sri Lanka wins 2-0 in New Zealand.
If India scores less than 21 points against Australia and South Africa defeats West Indies 2-0 at home, they risk falling behind South Africa. Therefore, even with a 1-0 series victory or a 2-2 draw (24 points), India will remain in front of South Africa, but not with a 1-1 draw (20 points).
India moved up to second in the WTC standings after winning the series 2-0 in Bangladesh.
So there's still a possibility for South Africa?
South Africa's hopes have been harmed by the 2-0 loss in Australia, but the draw in a Sydney game marred by rain proved helpful. They presently have a 48.72% winning percentage and can reach 55.56% if they defeat the West Indies in both of their home tests.
South Africa must win both of their games to advance to the championship, Sri Lanka must only manage one victory in New Zealand, at best, and India must score fewer than 21 points. 
So South Africa is now dependent on the results of India and Sri Lanka. The chances of South Africa going forward are very grim.
Will Sri Lanka be able to advance?
Yes, Sri Lanka, who is currently third, has a chance. They will reach 61.11% if they sweep New Zealand away from their base. In that situation, they would require either a 4-0 victory by India over Australia, a draw in the series, or Australia winning the series in order to finish ahead of India.
Sri Lanka will finish with 52.78% if the series ends with a tie. In order for them to qualify with that percentage, India must lose the series to Australia (3-1 or 1-0 loss), and South Africa must get no more than 16 points (1-0 series win).
The remaining fixture of the test matches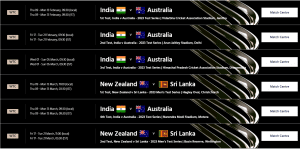 How about the other teams?
The remaining teams—England, West Indies, Pakistan, New Zealand, and Bangladesh—are too far behind to win. Only two teams remain, New Zealand and the West Indies, and even the maximum number of points they can get in these games won't be enough to advance.