Department of Information and Publicity – Organized by Government of Goa, [email protected]
Celebrating the sixtieth anniversary of Goa's liberation from Portuguese rule.  It will be celebrated in 6 cities of India, starting from Ahmedabad.
A series of events and live performances will make people experience the culture and traditions of Goa. The roadmap and vision to take Goa to greater heights will be highlighted.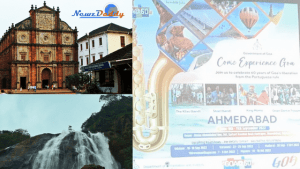 Ahmedabad, September 8, 2022: The Government of Goa has organized an entertainment of a different kind – '[email protected]', marking Goa's liberation from Portuguese rule and its manifold progress in all sectors. The government has successfully celebrated the sesquicentennial of its liberation through programs organized since December 19, 2021, including in the distinguished presence of the then President of India, Shri Ram Nath Kovind, then chaired by the Prime Minister of India, Shri Narendra Modi.
After the grand celebration in Goa, the Government of Goa, along with the people of Goa, are going to celebrate this year long across the country. Including Ahmedabad, this nationwide celebration will be held from 9th September to 16th October 2022 in 6 different cities across the country namely, Udaipur, Varanasi, Madurai, Thiruvananthapuram and Mysore.
The Ahmedabad celebration of [email protected] to be held in Ahmedabad will last for three days, starting on 9th September at Nexus Ahmedabad One Mall, Vastrapur and will continue till 11th September. People will get a glimpse of Goa with authentic Goan cuisine, music, dance, culture and tradition through various live events. The program will be headlined by Goa's indigenous band "The Clicks", a performance by Steele and a dance performance by a Goan dance troupe.
It will also feature the famous and cheerful parade of the face of Goa Carnival – The King Momo.
Speaking about this celebration, Honorable Chief Minister of Goa Dr. Pramod Sawant says, "We are happy to showcase the multifaceted achievements of the Goa government since the state's independence. It has witnessed and sustained growth in areas ranging from good governance to sports, arts and culture, tourism, education, healthcare, and many more.
[email protected] is an initiative to attract more tourists and investors, which will further boost infrastructure, agriculture, tourism, transport, IT, safety and security in return for improving Goa's standard of living. With this, we aim to put Goa on the world map."
In other states the celebration will be held on the following dates:
In Udaipur (Rajasthan) – September 16 to 18
In Varanasi (Uttar Pradesh) – 23rd to 29th September
In Madurai (Tamil Nadu) – 30 September to 2 October
In Thiruvanthapuram (Kerala) – 7th to 9th October
In Mysuru (Karnataka) – 14th to 16th October
Top officials of the Goa government are part of the celebrations and will address the press conference, and interact with media and chief officials of these 6 states. He will discuss the 360​-degree process like good health, digitization of services, improvement in education standards and industrial development along with employment opportunities, protection and conservation efforts of green cover, and preservation of Goa's historical heritage which will attract more and more tourists from India and abroad.
The Goa government will unveil its roadmap and vision to take Goa to greater heights in the coming years by adding infrastructures such as a new international airport at Mopa, information technology development, new services for travel, better transport facilities and increased safety and security for locals and visitors to the state. 
The event will pay a tribute and honour to those who fought for Goa's independence from Portugal, besides enabling Goa to achieve statehood, much admired by the people of Goa.