BCCI Questioned Rohit and Dravid
Earlier in the year, the BCCI convened a review meeting in Mumbai. Rohit Sharma, the captain, Rahul Dravid, the head coach, NCA president VVS Laxman, BCCI president Roger Binny, secretary Jay Shah, and former top selector Chetan Sharma were all present. In this discussion, the causes of the Asia Cup and T20 World Cup losses were discussed. In addition to this, 20 players were also chosen for the 2023 ODI World Cup.
BCCI's review meeting awarded three points…
1. To be considered for Team India, up-and-coming players must compete in domestic cricket.
2. For selection to Team India, yo-yo tests and DEXA (bone scan tests) would be necessary. The players won't be permitted to join Team India until they pass this.
3. The One Day World Cup, the World Test Championship, and Team India's upcoming tour schedules will all be taken into consideration as the NCA monitors player workload management with all IPL franchises.
20 Players will be tested.
Twenty players have been chosen for the 2023 ODI World Cup, according to news agency ANI. Team India will be chosen and put through its paces before to the World Cup. They will be used to create a 15-person World Cup team. Five series will be played by Team India before to the ODI World Cup. There will be 3-3 matches played in total. There will also be a 50-over Asia Cup match.
Over 15 ODIs, 20 players will compete to showcase their abilities. This time, India will host the full ODI World Cup. Between October and November, it will be organised. The 20 players who have been shortlisted have not yet had their names revealed.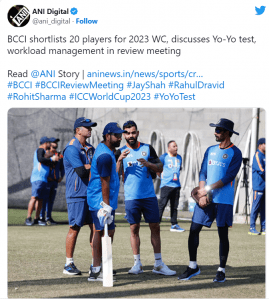 The discussion lasted for four hours.
The meeting in Mumbai with Rohit Sharma, Rahul Dravid, VVS Laxman, and former Team India selector Chetan Sharma lasted for almost four hours. Additionally, the goal for Team India in 2023 was discussed.
In 2023, India will compete in the ODI World Cup. The World Test Championship final will also take place this year in addition to these events. India will be eligible to participate in the WTC championship game for a second straight year if it defeats Australia in the four-test series in February and March. The team previously competed in the championship game, but India was defeated by New Zealand by an 8-wicket margin.
Four Important Men's Cricket Events in 2023
| | | |
| --- | --- | --- |
| Event | When | Venue |
| IPL | March to May | India |
| WTC Final | June | England |
| One Day – Asia Cup | September | Pakistan |
| One Day World Cup | October – November | India |
International cricket is given priority
Roger Binny, president of the BCCI, participated in the meeting via video conferencing. In this discussion, it was determined that Team India will give bilateral series and international cricket the utmost importance in the following days. According to BCCI insiders, the IPL will also be handled in the meantime.
NCA will keep an eye on IPL participants.
In this meeting, it was determined that the National Cricket Academy (NCA) would keep an eye on the IPL franchise's performance and physical condition alongside the Indian players'. The NCA will keep an eye on how the players handle their workload. The fitness of Deepak Chahar and Jasprit Bumrah has frequently been questioned.
Will develop a disciplined outlook on fitness
The Yo-Yo test was once again mentioned as a fitness test during this review discussion. The BCCI has determined that a player's level of fitness is crucial. To be a member of Team India, they must also pass the Dexa scan and Yo-Yo test. Both the Dexa and the yo-yo tests need participants to run 20 metres.