Major General Arvind Kapoor, ADG NCC Gujarat, Dadra Nagar Haveli, Diu, and Daman, honoured the accomplishments of prominent NCC cadets in Ahmedabad who have succeeded and brought honour to the state of Gujarat at the conclusion of the training programmes for the year 2022–2023. The ceremony, which followed the earlier "At Home Function" held on February 4 at Raj Bhavan in Gandhinagar, was held today at the NCC Group Headquarters in Law Garden, Ahmedabad.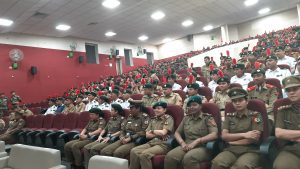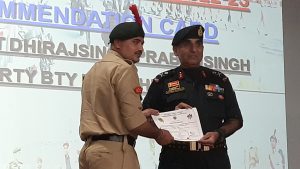 was where the honourable governor of Gujarat, Mr Acharya Devvrat, honoured the top cadets and their accomplishments in a variety of NCC events. During a ceremony conducted at Law Garden, Ahmedabad, Major General Arvind Kapoor, Addy, introduced a new initiative of presenting the "Inter Group Championship Banner" to the best performing NCC Group Headquarters in the Gujarat Directorate. A special award was given to the NCC cadets who volunteered and took part in the Sabarmati to Dandi Cycle Rally along the Dandi Path while spreading the phrase "Atmanirbhar Bharat Ka Safar."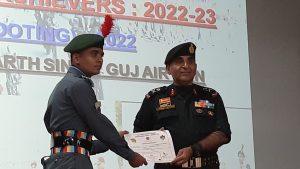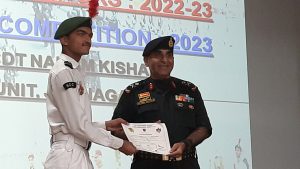 A motorcycle rally from Dandi to Delhi with the slogans "Swavalamban Ki Aur" and "Atmanirbhar Bharat Ka Salt Se Software Ka Safar" was held. The public along the route responded and supported both of the rallies held to mark the 75th anniversary of the NCC in January 2023 with an unparalleled outpouring of support.
The participating cadets received praise from General Kapoor for their excellent levels of motivation, bravery, and excitement for the worthwhile goal of educating society.
In order to further NCC's objectives of character development and leadership in all spheres of life, the Gujarat NCC Directorate has implemented numerous ideas and creative techniques that have led to the eager engagement, contribution, and excellence on the part of the cadets. The Hon'ble Governor also acknowledged the Directorate's continued efforts to expand NCC in the border and coastal regions, which the Addy encouraged even further.