The legacy of Vadilal
The second-largest ice cream company in the nation, Vadilal Enterprises, which has been around for more than a century, has launched its Summer 2023 campaign with the lively, fashionable, and accessible music video Dil Bole Waah Waah Waah.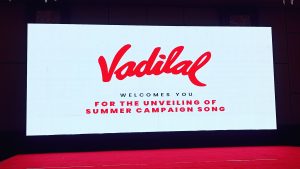 Vadilal's well-known campaign, Dil Bole Waah Vadilal, is centred around the idea of how people instinctively express their appreciation and applause, shouting "Waah," after tasting anything delectable, especially Vadilal ice creams. The campaign's vivid music video, Dil Bole Waah Waah Waah, is at the centre of this. The new advertising for the brand is spearheaded by this notion.
The granddad is most likely to be identified as loving VadiBro Naresh Gosain by viewers. Even the father is portrayed by Rajesh Kumar, well known as Rosesh Sarabhai, a family favourite. The idea was to portray actors that were well-known, adored, and relatable to everyone.
Aakanksha Devanshu Gandhi, President of Branding at Vadilal, commented on this by saying, "Vadilal has a brand legacy and is yet incredibly young. We are an inventive company that sets trends. Your heart will instinctively say Waah Vaah Vaah when you hear the song Dil Bole Waah Waah Waah. Gandhi is a member of the Vadilal family's third generation.
Gandhi said in response to a question regarding Reliance's foray into the ice cream market, "This healthy competition will help raise the bar of the industry as a whole."
This catchy song was written by Kabir, also known as OAFF, a rising Bollywood composer best recognised for his work on the scores for the films Gehraiyaan and Tu Kahaan.
After hearing the song, the listener will find themselves singing it nonstop for days. By the end of this campaign, Waah Vadilal will undoubtedly be a household name in India.
The Mumbai-based Kings United dance company, champions of NBC's World of Dance and the third place finishers at the World Hip Hop Dance Championship, unveiled the song during the event today.
The Vadilal campaign will use a full range of innovative media in an integrated fashion. Vadilal, for instance, will host online contests where young people and those of a certain age will be requested to record video reels of themselves dancing to Dil Bole Waah Waah Waah. Digital will be extremely important because the same song will be posted on the best social media platforms. Press, radio, TV advertising, and out-of-home media will all be very important.
#hardilbolewaahvadilal #DilboleWaahWaahWaah
Also Read: Linen Club, the largest linen retailer in India, opens an exclusive showroom on C G Road